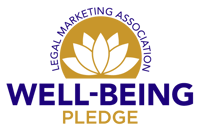 Thank you for making the commitment to promote positive mental health, cultivate resilience and create healthy work environments.
The purpose of the LMA Well-Being Commitment and Pledge is to create a healthy and safe environment for our members and to empower them to help create healthy work environments at their law firms. The goal is to bring awareness and a call-to-action toward eliminating stigmas related to one's overall well-being which is comprised of physical, emotional, and mental health. Through the Well-Being Pledge, we look to bring a greater understanding and acceptance to these challenges and to create environments where everyone can feel comfortable and encouraged to be themselves, and/or ask for help.
Your Next Steps:
First, "sign" below by submitting the below information.

View

the LMA Well-Being Pledge and see all the resources available to help you bring greater well-being to your organization in the LMA Well-Being Resource Center.

Join

the Well-Being conversation in the Well-Being Community in LMA's Connect.
After submitting the below, you'll receive information on next steps to help integrate well-being in your firm or organization.
Thank you and welcome, Well-Being Warrior!